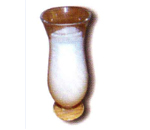 ALOE MILK GEL (Ayurvedic Proprietary Medicine)

Composition

Extracts of
Kumari (Aloe Vera)- 3% w/w
Godugdha(milk of cow)-1% w/w
Gel Base- q.s
USAGE:
Aloe Vera is a widely used skin moisturiser with healing and rejuvinating properties. It prevents premature ageing and gives a silky and smooth effect to the skin.

Milk Containss Protein which is very essential for the healthy growth of the skin. This also gives a very glossy and smooth look to the skin and acts as an anti wrinkle agent.

Gel base enhances the absorption of the active ingrediants. It is non greasy and could be used both in oily and dry skin. It does not stain the cloth or other materials.
ACTION :
Gives nourishment to the skin and demulcent, keeps the skin glossy. .
HOW TO USE :
Apply liberally the gel on the face and allow it to absorb. Do not wash. Avoid eye contact.